SMSL C100 MQA DSD DAC
SMSL C100 – their ultra portable budget DAC
Pros: MQA native playback, reads up to DSD512. Asynchronous. Coax/BT/Optical/USB in a micro unit. Jitter adjustment for older devices/TVs. SQ is excellent at this price level. Needs no external mains power.
Cons: Quirky connection – comes up with a "could not connect" on Macs – although it works fine on them.
No OTG to smartphone connection – bluetooth is excellent however
Introduction
No palms have been greased with wads of dirty cash to enable this review to spring forth from the creative centre of yours truly. Nevertheless, without the kindness and loyalty from aoshida-audio.com, this SMSL would have waited far longer to be unveiled to the World of Portable Audio, and that would have been a shame, wouldn't it? Thank you to my friends from China who have sent me a sample to bring to your attention – the SMSL C100 is the focus of our first look at 2023. The micro DAC can be found exclusively on aoshida's store, just follow this link. I have suddenly realised I have a lot of Dacs; I have 5 SMSL Dacs…. The C100 is their budget model – there are compromises, which we can talk about, but the focus, as always, will be what the end result looks like. The end result is the sound that goes into your lugholes, fellow audio enthusiasts. That is where it is at. The rest is theory, hyperbole, graphs on a chart, wishful thinking in an engineer's vast grey matter. SMSL is a Chinese Company, they have made lots of Dacs and DacAmps, and so far I've found them to deliver an honest performance for the monies being outlayed for them. Are you considering dipping your toe in the water of the standalone Dac, perhaps to take on the audio duties of your aging CD player and looking for a diminutive, modern looking black box that doesn't break the bank or your desk? You'd be a fool not to read on in that case! Curious to know what the latest moves in the marketplace are? Perhaps you're wondering what all the fuss about Dacs are. However I've got you here, welcome aboard. We'll get to the the bottom of this Dac conundrum together, I can assure you.
For the purposes of providing some healthy competition, I am going to be using a similarly priced Dac, the Fiio BTA30, as a comparison. You'll be able to listen to real audio samples of both Dacs in the video I've embedded. Aren't you lucky?!

About the C100 – in fact, about Dacs aswell
The SMSL C100 is a Dac. A Dac is a digital to analog converter. A Dac converts the digital information (0000s and 1111s) into sound. A dac accepts the digital outputs from sources like CD Players, TVs, Game Consoles, Laptops, Smartphones, PCs and Tablets. The external Dac has digital output connections to accept 1, or more sources. In the case of the C100, reading from left to right, Coaxial (my Ibasso DX100/Fiio M11 players + a few others) Optical (CD/DVD/Blu Ray Players + my Macbook Pro) Bluetooth ( this is how the C100 handles your Smartphone) and USBC (think Laptop/PC/Tablet/Ipad). Apart from Bluetooth, all you need to do is to link an appropriate cable from your source's digital output to the C100s digital input. You attach a set of phono plugs to the analog output of the C100, attach those to a spare input on your amp, and you're away. You don't have to bother doing any of this, of course. All of these sources have Dacs built in. They often have analog outputs too, so you can hook your TV up to your amp using a set of phono leads, for example. However, all Dacs are not created equal…. Some Dacs are ducks, and some are swans.

The C100 is a micro Dac, it's tiny. Lengthwise we are talking just over the circumference of a coffee mug, widthwise it's narrower, and height; it won't reach above the 2nd knuckle of your little finger. Yet – we are promised much. A certification from the Japanese Hi-Res Society, 4 inputs, no mains power needed, vanishingly small distortion from a new AK Dac Chip, the 4493S, 6 digital filter options, variable volume, DSD and MQA Asynchronous handling that scales the heights of the 512 DSD or 768 MHz PCM File Formats. Michicon caps, a decent clock for jitter problems and a super besty built in power supply filter are all promised. All options are accessed without touching the C100. There is a button on the front you can use to switch between inputs, but the remote control does everything – power on/off, volume up/down/mute, display on/off, brightness, digital filtering. All can be done from the comfort of your armchair. For those MQA enthusiasts, this is an MQA enabled device. Green, Blue and Magenta colours are discretely offered for each of the 3 levels of this format, available on the Tidal Streaming App.
The C100 in use
USB Power Issue
We can't proceed until we have discussed the elephant in the room. The Macbook appears to dislike the SMSL C100. When I plugged it into my Macbook (Pro Retina Mid 2014/2.5 GHz/Big Sur 11.7.1) it displayed this:

In fact, this message was a big fat lie. It plays all files and all formats, on any software I've so far used, without so much as a bead of sweat. My advice is, if you see this message displayed on your Mac device, have a look see if the C100 works ok. If it does, press the X in the top left corner of the message. The message will then disappear. The problem, that wasn't there in the first place, is solved.
MQA/DSD Playback
The problems
I believe that the C100 doesn't play DSD files natively, nor am I convinced that MQA files can be unwrapped to a Magenta finish. I'd welcome any findings on this, as the C100 gets more exposure. I have audivarna plus, Foobar, HQ Player and Pine Audio, all of which offer exclusive audio mode and native DSD playback. I haven't managed to achieve a display on the C100 that convinces me I am listening to an unconverted DSD file. The AK Chip has a DSD part to it, so I'm baffled. In other words, the track that I recorded was from an SACD version of Avalon, by Roxy Music. That is a DSD64 file. It displays as 352 on the C100 Panel. Pine Audio recognises a 352 MHz capable Dac.

Solutions?
I have done some research and I'm guessing that the C100 is a DoP Dac. This is what I found "The DSD information as a 176.4khz at 16-bit comes out to a bit-rate of 2822kbps; the same physical bitrate as DSD64. So rather than packing PCM sample data in to the PCM frame…they just pack 16-bits of DSD data in to each sample." I changed the Dac profile in the midi settings of my Macbook, to a 32 big 768 MHz capable Dac. Therefore, it would appear that 352 is the same number of kbps that the DSD64 file would need to fit in the space of a PCM file without being downconverted. If anyone can validate this I'd be grateful. In the absence of any more expert opinion, I am taking this as a DSD playback Dac, albeit in the DoP spec, evidenced through an analysis of the circuit diagram of the AK4493S chipset, and the posts out there I came across.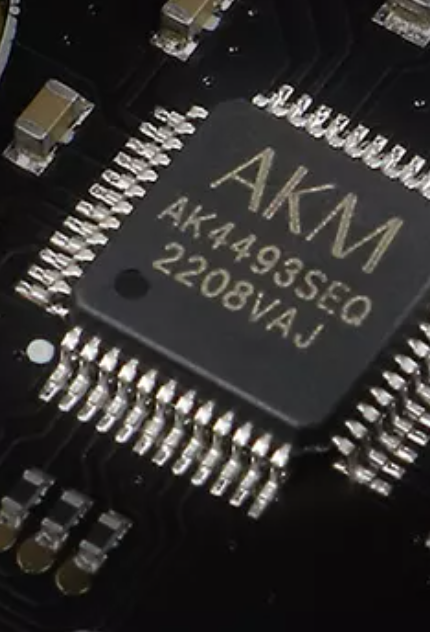 As for MQA, I can, through Audivarna or the Tidal Desktop App, achieve native MQA playback on my Macbook. I was getting green, for standard MQA, and blue, for studio MQA. The real magic, I am led to believe, is when the full unwrapping takes place. An MQA is a music track that has been folded, like a letter in an envelope, or something else you can think of that's folded, except for an omelette. An omelette tastes better folded,so we can't use that as an example of a folded thing that improves once it's unfolded. Oh…I thought of something – the wings of a bird. When the wings spread out, the birds are capable of something truly beautiful, truly a wonder of nature; because they can fly. Why crawl when you can walk, why walk when you can run, why run when you can fly…. Whilst musing on this impossible dream, I had another look at the Audivarna + app on the Macbook. I changed a setting from MQA Decoder to MQA Renderer. I now have a fully unwrapped, Magenta coloured MQA experience. I am, as they say, in the Pink. Look, whatever you think about DSD or MQA, I have now, with serious focus and determination, got both playing as they should. That is serious for $119.

This is for the DSD setup – for MQA – untick auto detect and click MQA renderer and you're all set
The bottom line
The problems are now ironed out. They took some doing, but I'm there. Now all I have to do is to sit down and evaluate. I then need to record a couple of tracks for you. And you can hear what I hear. Can you hear what I hear? Forget that! Christmas is gone! I have recorded 2 samples of Take a Chance with me – Roxy Music. Both are in DSD64 format, making an already excellent sounding album into a tour de force of every nuance of whispered beauty that could be possibly breathed into a piece of music, almost eclipsing the boundaries of the physical Universe. At least we can all agree that said track is the poppiest one on the Avalon album. A good beat, lots of whizkid effects, exquisite vocals and some hidden bits that only a DSD file with a decent Dac can reveal properly. I can now, with your help, begin to unravel the sound behind the brand. Just what is going on here, and does it compare favourably with the Fiio BTA30?
Have you had a look at my YouTube Vid? If not….go back! YOU SHALL NOT PASS!! Seriously; what did you think? Forget about my opinion; I have used my ears as a recording device here, and, in my opinion, I should only be 1 of many who have their own thoughts on what they liked, or disliked, about the sound of the C100. To make matters slightly easier, I chose some absolutely World Class gear to strap onto the SMSL. Stax SR009S – electrostat headphones that were designed to improve the sound of their iconic SR009. The SR009 is plugged into a HiFiMan Shangri-La Jnr. Amp. I mean, this is truly overkill! The reasoning behind using gear of this calibre is simple; I found it very difficult to tell the differences between the Fiio BTA30 and the SMSL C100. Only by using ultra hi-end equipment and doing lots and lots of back to back listening tests could I begin to discern any type of personality that these components were instilling. You can draw your own conclusions as to this admission. Anyway, back to the supertest.

You've heard it – you've made your own mind up. So what did I think? If we leave my comment above to one side, I'd choose the sound of the C100 over the BTA30. I felt that the bass was leaner and faster on the C100 and the highs had slighltly less energy. In the end, the extra mid range clarity of the BTA30, for me, was not enough to steal the prize of winner over the SMSL. The concept of winner and loser is not one I'm particularly enamoured with; you might prefer clarity over things that make me a tiny bit frustrated with, such as slightly shrill highs and slightly boosted lows. I respect that people want me to fall into one camp or another; after all, if you're in a shop and you have a finite budget, you're going to come out with 1 product, 100% of the time.
You have a little money to spend; you want to see what these Dacs are all about. You would rather not have your partner involved in your buying decision because you know they just won't understand. So what can you do? Buy something so discrete that it can be hidden away and worked with a remote that couldn't possible cause any suspicion. And take over all dusting and cleaning duties for the electrics. In this scenario, I can see you becoming very accustomed to the SMSL C100. To be honest, there are worse guilty pleasures in life, but maybe not many can bring so much pleasure.